We recently had the good fortune of welcoming Chris Armstrong to the Provar team as a QA strategy consultant. When we learned that Chris was available, the entire leadership team at Provar sprung into action to help facilitate getting him on board, and we are incredibly excited that he decided to join us.
Question and Answer with Chris Armstrong
We prepared questions about who Chris Armstrong is and what he can bring here in Provar. We are excited to share it with you guys. Come on, read on to learn more about Chris' background and his new role at Provar.
Q: We're Excited That You Joined Provar! Tell Us A Little Bit About Your Background. 
---
I have 17 years of experience in various software quality roles related to the end-to-end software development lifecycle, advocating for a quality-first approach and business agility.
Q: How did you get started in QA? What was your career path like?
---
I started my career at Codemasters in 2004. I worked as a QA technician and a dev QA on AAA titles such as F1 and Colin McRae Rally. I later moved to Frontier Developments in 2011 as an experienced games tester to work on a Disney franchise.
In 2012, I joined Landis+Gyr as a software test engineer managing the automation framework for the UK Smart Meter projects. I later moved to the broader EMEA and global automation platform teams.
In 2016, I took a leadership role as a test and release manager at Pico Technology, supporting their custom oscilloscope and vehicle diagnostic suite of tools. I established the Software Testing Community of Practice in this role as the company doubled its software team.
In 2020, I joined easyJet as a digital platform test manager and quality practice manager at a Leicester-based fintech SaaS startup in the summer.
Q: What do you like to do in your spare time?
---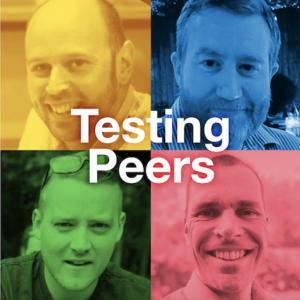 I'm married and have two young children. When I'm not working, I like to spend time with my family, listen to music and follow sports. 
I'm also an active member of the software testing community – I spend a lot of time speaking and volunteering for events throughout the year. I also write a testing blog, christovskia. Blog and I host a podcast with three other leaders in test and quality, Testing Peers.
I love to meet new people in the testing community. If you have any questions, please feel free to reach out to me on LinkedIn and follow my blog and podcast!