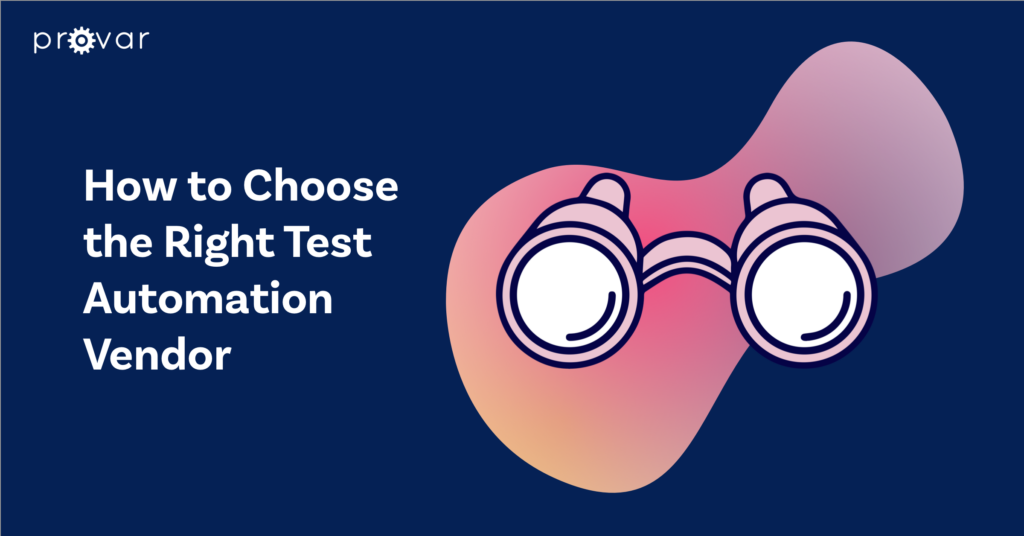 * This is part two of a two-part series that takes a deeper dive into choosing the right test automation solution for your team's needs. Part one focused on what you should look for in the technology itself, while part two focuses on looking beyond the technology and evaluating the vendor's business model.
We want to help you cut through the noise on the test automation market to ensure you choose the quality partner that fits your organization. There are other factors to consider outside the technology; the guide below will provide clarity on what to look for in a vendor's business model, and what questions to ask to ensure you select the right solution for your team's needs.
Key Considerations
The key considerations for evaluating a testing solution vendor, beyond its technological capabilities, fall into these categories:
| | |
| --- | --- |
| Support | To what degree does a vendor offer ongoing support through demonstrations, one-on-one consultations, online help centers, trade show presence, etc. |
| Training | Whether or not a vendor offers additional or ongoing training services beyond the initial consultation or setup |
| Customer success | How many customers have shared success stories using the vendor's products; the caliber of reviews from reputable industry review sites, peers, and analysts |
Now, let's break this down in a little more detail.
Support
It is imperative that your test automation solution vendor offers ongoing support across a number of verticals. The more willing a vendor is to help their customers in the long haul, the stronger the relationship will become and the more satisfaction and trust you can have in the product.
Here are some questions you can ask to determine the level of ongoing support your team will get:
After the initial setup consultation, how do you provide continued support to your customers?
What is your customer retention rate? Do you think your level of support plays into this?
Do you have an easily accessible online help center, or an area on your website with frequently asked questions? Do you offer a community forum for your customers to ask questions and receive support?
What happens if I have a question specific to my company's workflow? How quickly will I be able to connect with an expert from your team? Are you available 24/5 to accommodate my full team's needs (if global)?
Are you attending any upcoming trade shows or conferences in my area?
Training
Next we'll talk about training. A good vendor will prioritize continued education, such as readily accessible courses that users can take on their own time to brush up their skills, as well as continued training through webinars, instructional blog posts, and white papers that take a deep dive into real use cases.
Here are some questions to ask when evaluating how your vendor goes about training:
Do you have a library of training courses I/my team members can take at our leisure to expand on our product knowledge? What are some of your current course topics? Do you have any courses that will soon be released? How often do you release new courses? Are you available to provide on-site training, and will you provide our partner ecosystem the same level of training and support?
Do you offer free webinars for customers? What about free webinars for folks outside of your customer base? What are some topics you have covered in the past? Do you have any upcoming webinars that might be relevant to my team's needs?
Do you have a blog? How frequently does your company post on its blog? What topics have you covered recently? Do you publish contributions from various members of your team/departments so we can get a wide range of perspectives?
Do you have a library of white papers available upon request for me/my team members to browse?
Customer Success
Finally, you'll want to evaluate your test automation solution vendor for its customer success level. A good vendor will have an arsenal of customer success stories for every use case, and they will be happy to share them. Spend plenty of time researching reviews from reputable industry sites, peers, and analysts, and ask the vendor if they can connect you with past and current customers.
Here are some questions you can ask to supplement your research:
Do you have customer case studies or success stories available for me/my team members to review? Do you have any from my specific industry, or that are using your product in a similar way to how we would be using it?
When I was researching your company, I noticed that there was negative feedback published on [site] regarding [topic]. Can you speak to this feedback, such as ways your company has improved this area of business? What is your process for receiving feedback and integrating suggestions into future updates?
Do you have any reviews you could provide from reputable industry review sites, peers, and/or analysts?
Would any of your existing or past customers in a similar industry, or who have used your product in a similar capacity, be willing to speak with me/my team members and answer a few questions?
Have more questions? Connect with us today to discuss your evaluation process and what your team's goals are. We look forward to helping you choose the right test automation tool!